interactions between man and musical instrument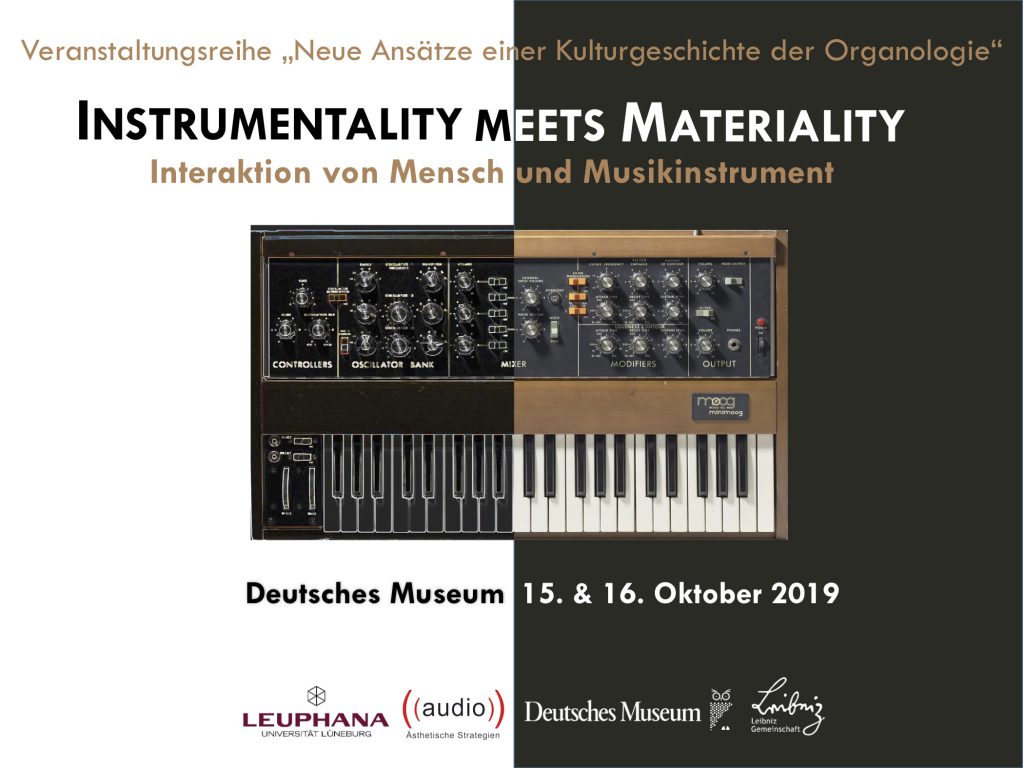 Workshop | Deutsches Museum München | 15.-16. Oktober 2019 | Bibliotheksbau, Alter Seminarraum
Joint workshop of the research group "Materiality of Musical Instruments", Deutsches Museum Munich and the department "((audio)) Aesthetic Strategies" at the Institute for Culture and Aesthetics of Digital Media (ICAM), Leuphana University Lüneburg.
Participants
Deutsches Museum: Dr. Rebecca Wolf, Katharina Preller M.A., Julin Lee B.A., Dr. Rüdiger Herrmann, Silke Berdux, Dr. Stefan Schenk, Jan Faszbender
Leuphana Universität Lüneburg: Prof. Dr. Rolf Großmann, Sarah Hardjowirogo M.A., Dr. Malte Pelleter, Cao Le M.A., Moritz Höger, Lucas Valentin Schröder BA

Presentations

Sarah Hardjowirogo:
Sich Undinge zuhanden machen.
Software-Instrumente zwischen Immaterialität und Instrumentalität

Rolf Großmann
Technologie – Werkzeug – Instrument.
Macht Technologie Musikinstrumente überflüssig?

Malte Pelleter
Digital Dub & musealisierte Maschinen.
Oberheim's DX bei Prince Jammy und im Deutschen Museum
Cao Le
Musictechnology and cultural practice in China
Lucas Schröder
Sensorik als Instrument.
Präsentation MiniBees / "Tonangel" (F. Behrens)
Moritz Höger
DAWs als Instrument

Rüdiger Herrmann
Modul "Beatles-Instrumente" in der neuen Ausstellung Musikinstrumente im DM
Stefan Schenk
Präsentation des Siemens Studios

Julin Lee
"My fascinating instrument". Revisiting the agency of Oskar Sala's Mixturtrautonium
Rebecca Wolf
Materialität der Musikinstrumente. Beiträge zur Organologie
Katharina Preller
Harmonien mit mikrotonalen Klaviaturen in der Sammlung des DM
Silke Berdux
Ausstellung Musikinstrumente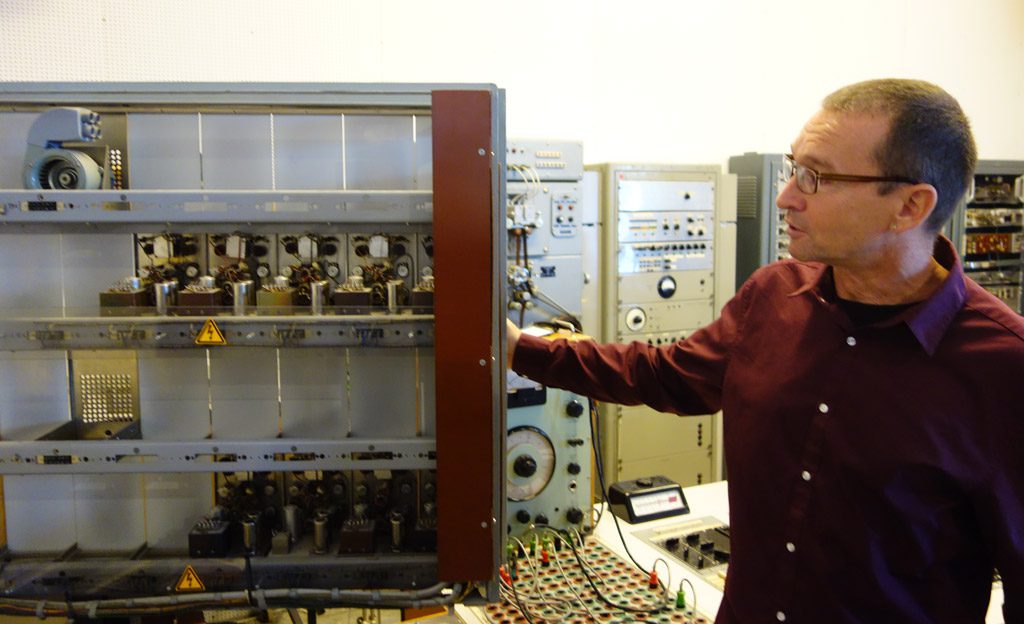 Dr. Stefan Schenk presents the inner parts of the modular rack in the Siemens Studio of Deutsches Museum
Literatur
Großmann, Rolf. "Distanzierte Verhältnisse? Zur Musikinstrumentalisierung der Reproduktionsmedien." In Klang (ohne) Körper. Spuren und Potenziale des Körpers in der elektronischen Musik, Hg. von Michael Harenberg and Daniel Weissberg, 183–200. Bielefeldt: transcript, 2010. Ebenfalls erschienen in: PopScriptum 9 – Instrumentalisierungen – Medien und ihre Musik. Schriftenreihe herausgegeben vom Forschungszentrum Populäre Musik der Humboldt-Universität zu Berlin.
Großmann, Rolf. "Gespielte Medien und die Anfänge 'phonographischer Arbeit'." In Spiel (mit) der Maschine. Musikalische Medienpraxis in der Frühzeit von Phonographie, Selbstspielklavier, Film und Radio, Hg. von Marion Saxer, 381–398. Bielefeld: transcript, 2016.
Hardjowirogo, Sarah-Indriyati. "Instrumentality. On the Construction of Instrumental Identity." In Musical Instruments in the 21st Century. Identities, Configurations, Practices edited by Till Bovermann et al., 9-24. Singapore: Springer Nature, 2016.
Körndle, Franz und Rebecca Wolf (Hg.). Materialität – Musik und ihre Objekte. Musiktheorie. Zeitschrift für Musikwissenschaft 34, Nr. 1 (2019): https://laaber-verlag.de/detailview?no=04037.
Lee, Julin. Workshop Report "Knock on Wood. Holz, Handwerk und Wissen im Instrumentenbau": http://www.deutsches-museum.de/fileadmin/Content/010_DM/050_Forschung/030_Forschung_Projekte/Report_Knock_on_Wood.pdf
Lee, Julin. "Revisiting 'My Fascinating Instrument': The Agencies of Oskar Sala and the Trautonium Reviewed". In International Music and Sciences Symposium. Proceedings. Istanbul: Istanbul Technical University Press, 2019.
Plath, Niko, und Katharina Preller. "Early Development Process of the Steinway & Sons Grand Piano Duplex Scale". In: Pérez, Marco A, und Emanuele Marconi (Hg.), Wooden Musical Instruments, Different Forms of Knowledge: Book of End of WoodMusICK COST Action FP1302, 2018, 343-365.
Poulopoulos, Panagiotis, und Julin Lee. "A Synergy of Form, Function and Fashion in the Manufacture of the Erard Harp". in: ebd., 367–398. http://woodmusick.org/wp-content/uploads/2019/COST_FP1302%20Book.pdf
Preller, Katharina. "Teaching Acoustics: Hermann von Helmholtz's Lecture Notebooks". Sound & Science: Digital Histories, 2019. https://acoustics.mpiwg-berlin.mpg.de/contributor-essays/teaching-acoustics-hermann-von-helmholtzs-lecture-notebooks-0.
Schenk, Stefan. Das Siemens-Studio für elektronische Musik Geschichte, Technik und kompositorische Avantgarde um 1960. Geschichte, Technik und kompositorische Avantgarde um 1960. (= Münchner Beiträge zur Musikgeschichte, hrsg. von Hartmut Schick, Bd.72), Tutzing: Hans Schneider 2014.
Wolf, Rebecca. "Materielle Kultur" und "Musikinstrumente". In: Handbuch Sound. Geschichte – Begriffe – Ansätze, hg. v. Daniel Morat, Hansjakob Ziemer. Stuttgart, Weimar: Metzler 2018, S. 32-38, 338-343.
Wolf, Rebecca. "Musik im Zeitsprung. Victor-Charles Mahillons Instrumente zur Rekonstruktion und Neubelebung von historischem Klang". In: Netzwerk "Hör-Wissen im Wandel" (Hg.): Wissensgeschichte des Hörens in der Moderne. Berlin, Boston: De Gruyter 2017, S. 153-181.
Videos
Played automatons
Rex Lawson playing the pianola (Frankfurt 2016)