On 14 and 15 February the sound installation 'Affected Soundscape' was exhibited at the Künstlerhaus FAKTOR (Hamburg/Sternbrücke). An accompanying Program with musical performances has also been announced.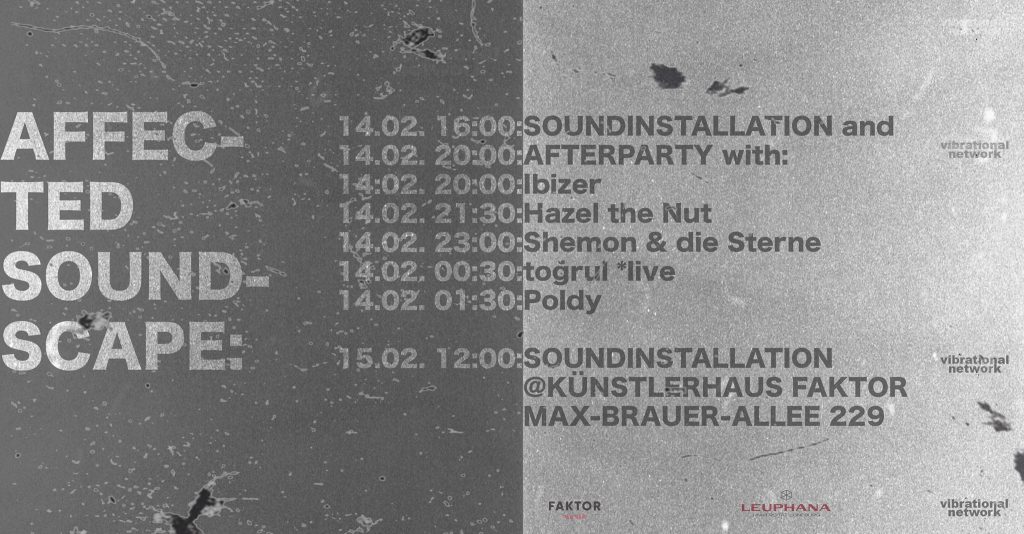 "Let coincidence run wild and be part of a morphing soundscape."
Merle Moers, Toğrul Zerofy, Simon Göbel & Leopold Bierling found themselves in the seminar room at Leuphana and worked on the installation with the working title "Instrument- and software-based room installation with random components". The event Sound, Space, Movement Sound, Space, Movement deals with the theory and practice of auditory design in interactive environments and gave the impulse for the project of the four fellow students*. The result is now entitled 'Affected Soundscape' and has left Lüneburg's campus.
The installation could be viewed at the Künstlerhaus FAKTOR on two days in February. Among other things, it consists of interactive components with which the viewers themselves participate in the formation of the (affected-) soundscape. The movement puts sound and space into new relations; an immersive experience is additionally supported by the design and lighting of the exhibition space.
SOUND INSTALLATION:
14.02. 16:00-20:00 / 15.02. 12:00-16:00
MUSIK & PERFORMANCE:
14.02. 20:00-02:00 – mit: Ibizer, Hazel the Nut, Shemon & die Sterne, toğrul *live, Poldy