From September to November 2019 the installation of Arkestrated Rhythmachine Complexities can be seen and heard at the Johann Jacobs Museum in Zurich.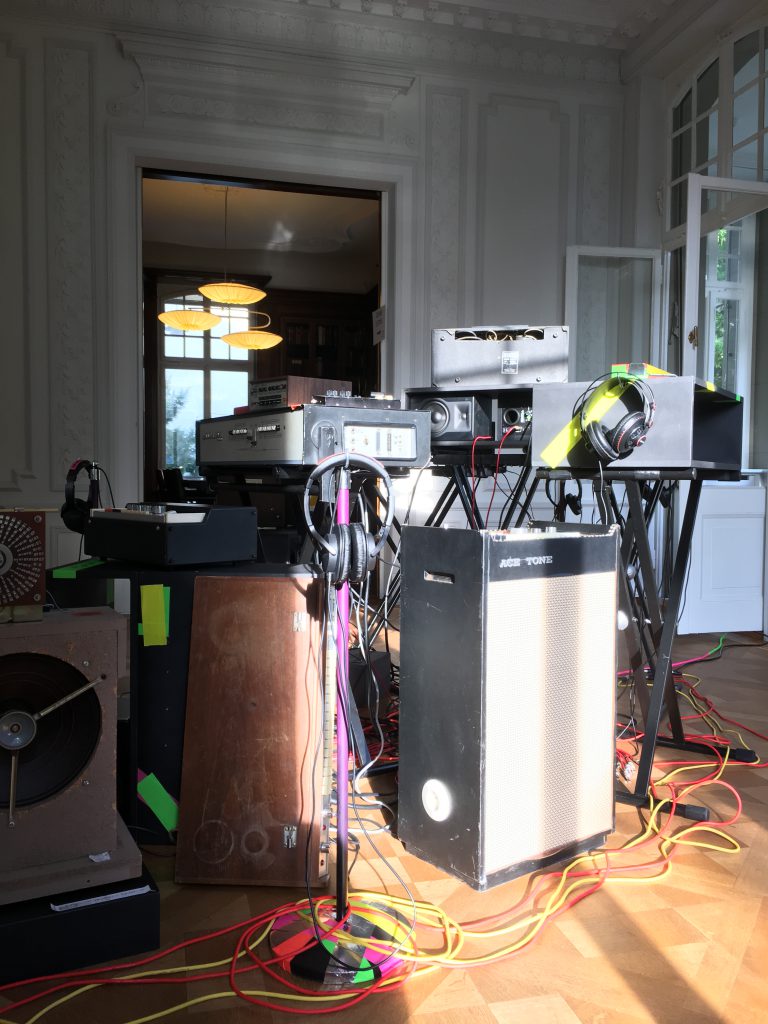 The installation was developed by Johannes Ismaiel-Wendt, Sebastian Kunas and Malte Pelleter 2018 as part of the exhibition Mobile Welten at the Museum für Kunst und Gewerbe, Hamburg. It consists of 10+ rhythm machines from the 50s to 80s, 3 samplers, and six radio play treks. After a stopover at the ifa Galerie, Berlin, the rhythmic Mothership now gathers in a new formation in the former music room of the Johann Jacobs Museum, directly on Lake Zurich. Here, on the yellowed surfaces and along the switch strips of the devices, attempts are made to spin new narratives – about the post-colonial entanglements of rhythm technologies and the invention of Bossa Nova in Japan; about the very own funkyness of time-discrete scanning and being alone as well as living together with machines as with people.
The switch bar of the rhythm machine, called "Latin", "American" "Traditional", is a display of the "Black Atlantic" – a post-colonial atlas that also collects the traumatic routes of enslavement as well as the transnational beat presences in a box-shaped ship, an ark // The history of the Drum Machines is a history of piracy, a history of clones and simulations // In the 17th and 18th centuries, music boxes were very popular at the court of the Chinese emperor. They became a very important element of mission politics and western diplomacy. And apropos 'Shanzai' the first music boxes 'Faker' were Swiss Jesuits. // Latin Rhythms" are also an invention of Japanese electronic engineers in the 60s. The rhythm machine is a traditional engraving machine // "Drum Machines have no soul!" – John Wood prints on a sticker in California in order to protest against the "dehumanization of American music" he feared. Anyone who is concerned with realities like 'American Music' has to be unsettled by an ambiguity like a machine that makes music. // The history of technical automatons is a history of fascinated fear. Fascinating 'Other'. Fear of human/male substitutability. Fear of deception.
ARK (Arkestrated Rhythmachine Complexities) is a collective for post-representative sound formats. The collective consists of Johannes Ismaiel-Wendt, Sebastian Kunas, Malte Pelleter, Rhythm King, Sarah-Indriyati Hardjowirogo, Ole Schwabe, Side Man, etc. and works on topics such as sound, beats, and instruments, questioning cultural attributions and interdependencies. Her installations and sound lecture-performances were presented in 2018 at the Museum für Kunst und Gewerbe in Hamburg and at the Haus der Kulturen der Welt.